Different Starlings!
Identify It > Birds Section > Different Starlings! >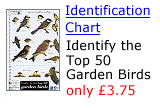 Not all starlings conform to the regulation colour scheme. The photos above show a juvenile starling with a ginger face (spotted in Newquay), an all white starling (spotted in Kent), and an albino starling complete with pink eyes (spotted in Powys).

Related Pages