Sanderlings
Identify It > Birds Section > Sanderlings >
Scientific name: Calidris alba

Size: Approximately 20cm long.

Distribution: Found around most of the UK coastline

Months seen: August to March. During the summer months Sanderlings return to the high arctic to breed (Canada, Greenland, Siberia)

Habitat: Sandy coastline, estuaries, mud flats and coastal pools

Food: Worms, molluscs and crustaceans

Special features: In wintertime Sanderlings have predominantly light grey plumage on their upper parts and spotless white plumage below. During the summer months the plumage on their backs and head is a reddish-brown - more noticable in the males. The beak and legs are black. In flight they have a large white wing bar which runs the full length of the wing.

As they have no backward pointing toes they are very fast runners on the ground.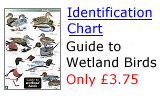 Related Pages