The Rocky Shore Name Trail

Price: £2.95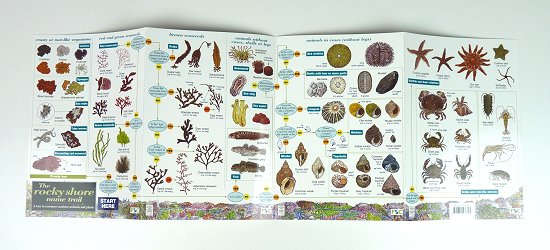 Description:
A beautifully illustrated and fully laminated fold-out key to common seashore animals and plants. The chart features anemones, seaweeds, sponges, sea mats, bristle worms, molluscs, crustaceans, starfish, sea urchins, sea squirts and fish. It also describes some of the main environmental factors which influence them such as tides and exposure.

Suitable for all ages, and packed with information. Buy it now!

Features:
Size: 69.5cm X 24.5cm opened out - 17cm X 24.5cm folded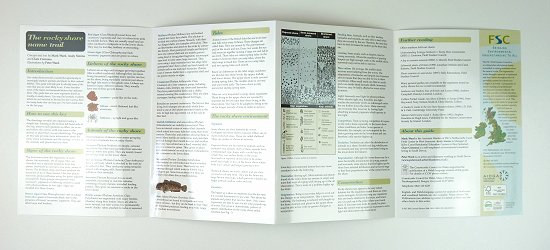 Customers who bought this also purchased Guide to the Common Seashells of Britain and Ireland and Guide to the UK Dolphins, Whales and Seals

Click here for more identification charts
Related Pages
FEEDBACK

P. Moss, Staffordshire
ID charts are clear, concise and colourful. Great to carry with me when I'm out and about. Filled with information that is both scientific but easy to understand for the interested novice. Swift delivery in robust packing.

P. Willmott, Bath
Very informative to me and my 4 year old and 7 yr old Grandchildren. Many Thanks

S. Trigg, Leicestershire
Charts arrived next day. Excellent quality and value for money

L. Edwards, Hertfordshire
Sturdy charts well packaged

I.F. Clark, Coventry
The identification charts are even better than I thought they would be. Absolutely brilliant!!! Thank you so much.

S. Hill, Derbyshire
Everything arrived really quickly and well packaged. The field guides are brilliant.

F. Moy, Essex
Just purchased the ID charts brilliant service fast delivery

T. Harding, Wrexham
Thank You. I will be back again to purchase more id charts - recommended.