Guide to Rocky Shore Lichens

Price: £2.95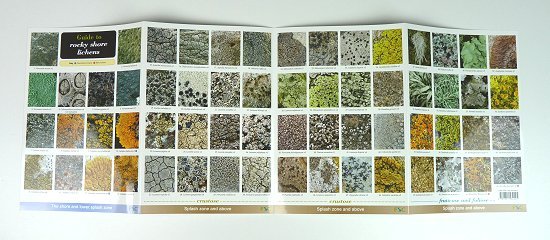 Description:
This fully laminated fold-out chart covers 62 common species of lichen found on rocky sea shores from the low tide mark up to the limit of sea spray. The seashore is a very difficult environment for most organisms, as they may be submerged by the tide for part of the day, or soaked in spray which dries out to leave a coating of salt. Lichens are one of the few organisms that are able to survive under these conditions.

Suitable for all ages, and packed with information. Buy it now!

Features:
Size: 69.5cm X 24.5cm opened out - 17cm X 24.5cm folded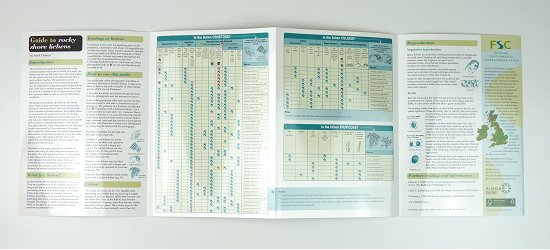 Customers who bought this guide also purchased a Guide to Urban Lichen 1, Guide to Urban Lichen 2, Guide to Churchyard Lichens, Lichens of Heaths and Moors and Key to Lichens on Twigs

Click here for more identification charts
Related Pages
FEEDBACK
I. Short, West Sussex
The ID charts I ordered are of very good quality, clear and attractive visually and covering subjects such as Lichen and rock types that are often overlooked. Delivery was very prompt, ordered on the Friday and delivered on Monday, impressive. I would definitely recommend a purchase

A. Huggins, East Sussex
Thank you for Lichen charts, the pictures are very clear and will be very useful

P. Willmott, Bath
Very informative to me and my 4 year old and 7 yr old Grandchildren. Many Thanks

S. Trigg, Leicestershire
Charts arrived next day. Excellent quality and value for money

I.F. Clark, Coventry
The identification charts are even better than I thought they would be. Absolutely brilliant!!! Thank you so much.

S. Hill, Derbyshire
Everything arrived really quickly and well packaged. The field guides are brilliant.

F. Moy, Essex
Just purchased the ID charts brilliant service fast delivery

T. Harding, Wrexham
Thank You. I will be back again to purchase more id charts - recommended.